Points Of View offers assistance in producing unique theatrical productions, from script to final show.
Current Projects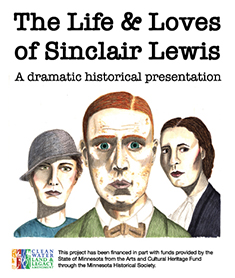 "The Life & Loves of Sinclair Lewis" is a film based on an 80-minute stage production set around the celebration of the 100th year anniversary of Sinclair Lewis's best-selling novel, Main Street, and is led by a fictional journalist who is interested in showing how relevant Sinclair Lewis is today. The story revolves around the journalist as he goes back in time and interviews Lewis and his two famous wives around issues of narrow-mindedness, authoritarian behavior, racism, a worldwide pandemic, religious hypocrisy, and the personal struggles of becoming a world-famous author.
This historical presentation was financed with funds awarded to the Sinclair Lewis Foundation by the State of Minnesota from the Minnesota Arts and Cultural Heritage Fund through the Minnesota Heritage Society. It was produced by Jim Gambone of Points Of View Productions for the Sinclair Lewis Foundation in Sauk Centre, Minnesota.
The film is streaming through the Sinclair Lewis Foundation website.
To see the 80-minute production of "The Life and Loves of Sinclair Lewis," click here.
---
Sharing the Process – Reopening the Performing Arts in Ireland – held on Wednesday, July 29, 2020

A webinar for the Minnesota performing arts community with SLUA, an Irish safety consultancy group working on re-opening Irish theaters.
The Minnesota Theater Alliance, with Springboard for the Arts, hosted a webinar with Dr. James Gambone (Professor of Public Health at Capella University, Points Of View Productions Inc. principal partner, and Minnesota theater producer and director); and Peter Jordan from SLUA, an Irish safety consultancy group working with Irish theater companies on safe opening guidelines. The purpose of the webinar was to present the "Irish Model" for live theater reopening which happened throughout Ireland on August 10, 2020.
This educational forum was an opportunity to learn what our colleagues in Ireland are doing to ensure safe re-openings for their performing arts. The webinar also allowed Minnesota participants to ask questions and share their particular theater opening obstacles.
Co-sponsors: The Minnesota Theater Alliance, Springboard For the Arts, The Lake Region Arts Council, the Central MN Arts Board, The Metropolitan Regional Arts Council, and The Region 2 Arts Council.
Click here to view a YouTube recording of the webinar.
---
Past Projects

"It Can't Happen Here" A dramatic reading of the 2016 play adaptation of the 1935 Sinclair Lewis book It Can't Happen Here was performed on Tuesday, October 30, 2018 at the Sabes Jewish Community Center Theater in Minneapolis, Minnesota. Jim Gambone, Principal Partner of Points Of View, was the producer/director of this sold-out reading.
---
to learn more about our Film, Video, audio, & radio productions, check out these pages: